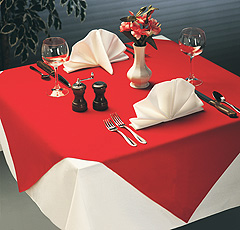 Table Cloths
Made of top quality polycotton twill fabric
Available in many sizes to fit round, rectangular and square tables
Many colors to pick from (dusty rose, grey, gold, ivory, light blue, pink, purple, red, royal blue, sea mist green, white, black, burgundy, yellow, hunter green). Please note that every color is not available in every size.
Round
Model#
Size
Notes:
TCH120
120"
fits 72" round table or 60" round table to the floor
TCH90
90"
fits 30" round table to floor
TCH90
90"
center hole, (yellow only)
TCH72
72"
hunter green, red, white
TCH60
60"
white only
Rectangular
Model #
Size
Notes
TCH70X80
70" x 80"
TCH72X80
72" x 80"
TCH72X90
72" x 90"
hunter green, ivory
TCH72X108
72" x 108"
TCH72X120HG
72" x 120"
TCH54X108
54" x 108"
TCH54X120
54" x 120"
Square
Model #
Size
Notes
TCH102X102
102"
red only
TCH72X72
72" x 72"
hunter green, ivory
TCH45X45
45" x 45"
dusty rose, sea mist green
TCH54X54
54" x 54"
TCH64X64
64" x 64"
red, royal blue
Also, please feel free to ask our Rental Specialists about disposable
table cloths and napkins. These are high quality, come in 16 different
colors and, depending on your needs, may be quite suitable.